A Patriot & A Rock Star, December 2004 - February 2005
Solo Show At Ileana Tounta Gallery, Athens, Greece

Installation View:
Ilena Tounta Gallery, December 2004, Athens, Greece
See also here
In the exhibition 'A Patriot and a Rock Star' Dimitris Foutris magnifies the heavy metal phenomenon and visualizes, in a tender yet grotesque way, the experiences of being a teenage metalhead in a place other than the Mecca of metal music aka Los Angeles but also that which is fundamental for everyone: to belong to a group, a community.
All the works have a kind of paradoxical life, forming essentially a weird environment reminiscent of a concert stage after the gig is over. Foutris wittily employs a gothic/metal vocabulary, combines art history with rock paraphernalia and the beauty lies in his ability to walk that fabulously blurry line without losing his balance.
The fresco-like wall drawing welcomes spatial illusionism of all sorts and tells us in a different way that it's better to joke and laugh at the sirens who declare a newfound patriotism based on that ´Doom is approaching´.
The wooden sculpture, Praise, painted black and grey with an emblem of the dove (or is it an eagle?) is looming over the viewer as an inscrutable presence and hosts a video loop of gun practice. The protagonist, member of the metal group Deicide, is presented part like a hero and part like an action figure, while the disturbing sound of shooting echoes on cracked walls.
If not exactly menacing, politically correct this is not. And it is this sense of ambivalence that makes Foutris´ works so appealing. His instinctive resistance to platitudes of all kinds, from blind patriotism to the simplistic views of the heavy metal lyrics, flies in the face of the certainties we so desperately seek.
Foutris´ work creates a sense of unease; separate creative paths have now wound into one, providing an intricate, unified vision and creating a completely new point of departure for the viewer to investigate his work. We're reminded of the majesty of Rock, the grandeur of big sounds and big ideas and the chilling elegance of a bold, soul-stirring, passionate performance.
Metal music has created a language to reflect heroic values, formulated from the "now that you believe in nothing, find something worth believing in."

Xenia Kalpaktsoglou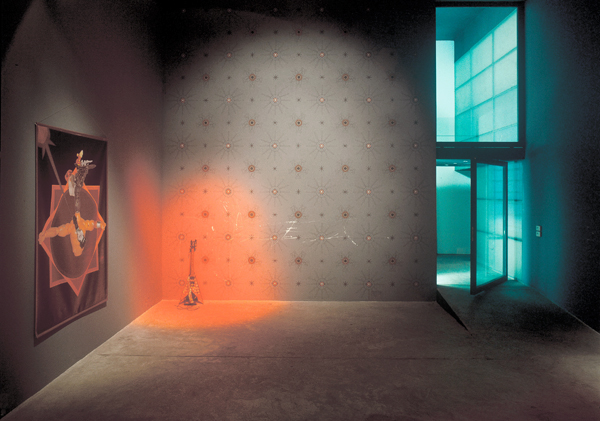 General View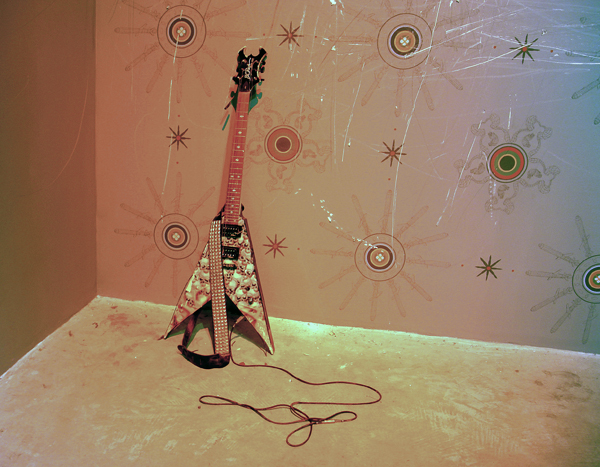 Scullpile / Sepulture 2004
Mural painting, electric guitar, dimensions variable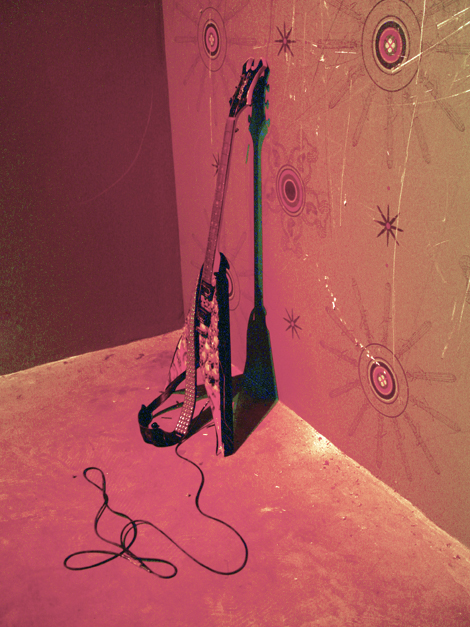 General view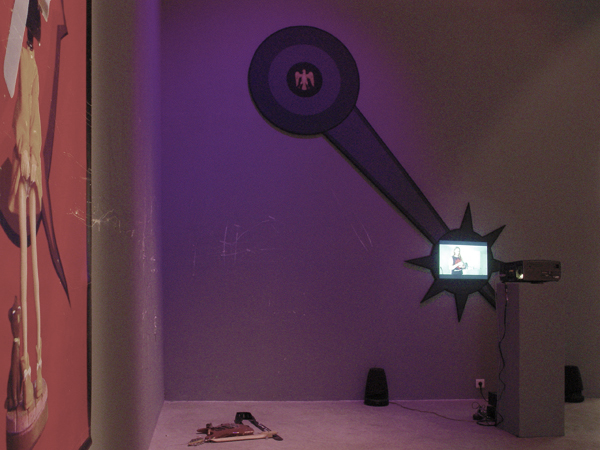 Praise, 2004
Wood sculpture (390x100 cm), acrylic paint,
DVD Loop (2 min.), digital projector, sound, speakers,
dimensions variable (private collection)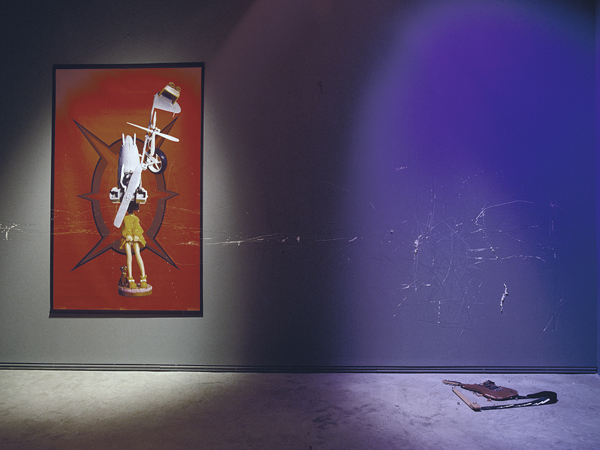 Be my baby 01, 2004
Digital print on vinyl, electric guitar, 255x160 cm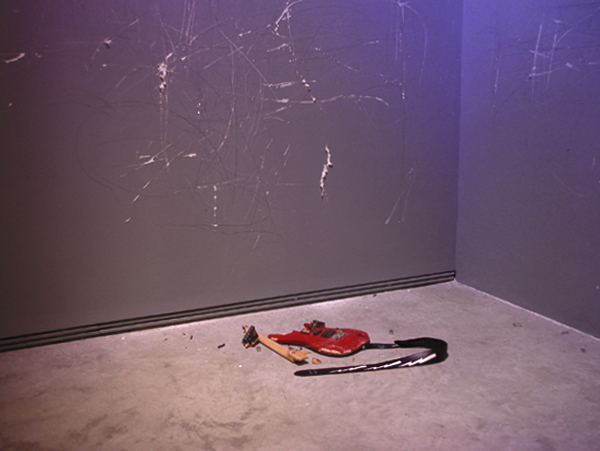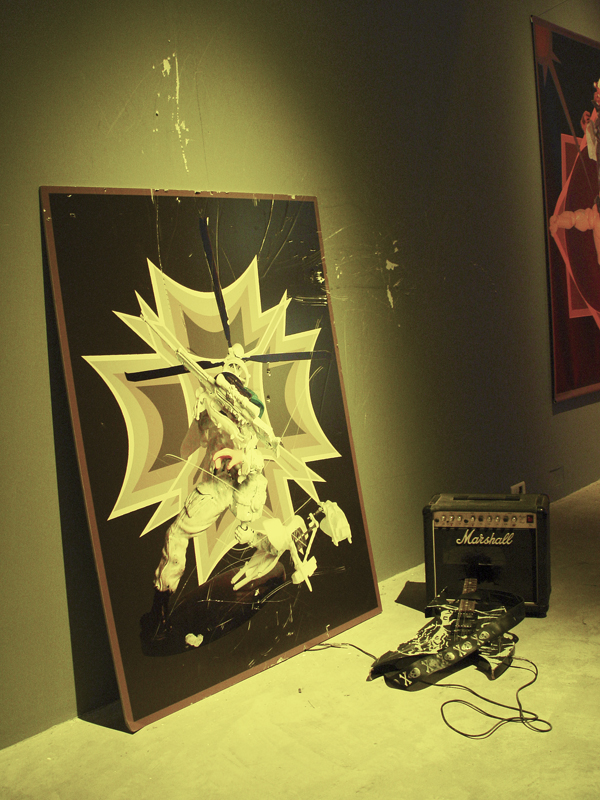 Be my baby 02, 2004
Digital print on vinyl, electric guitar, amplifier, wires,
dimensions variable (private collection)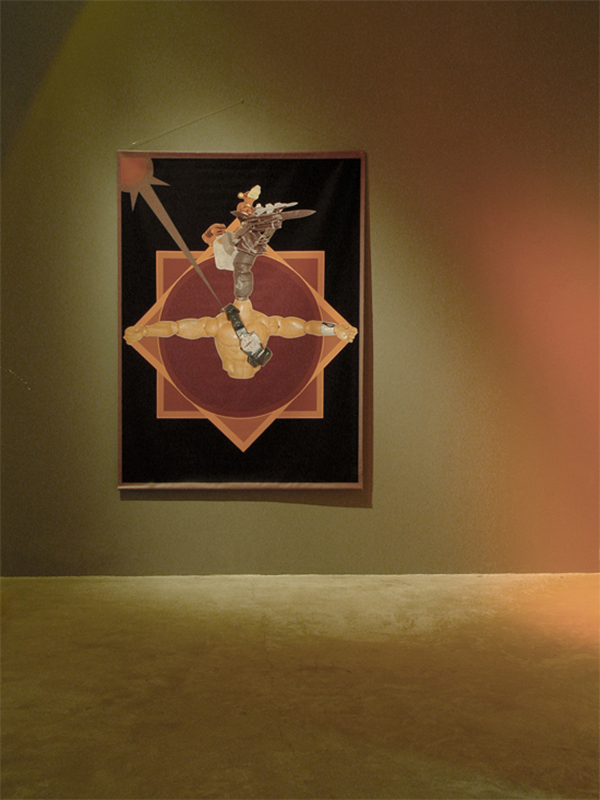 Be my baby 03, 2004
Digital print on vinyl, 200x160 cm (private collection)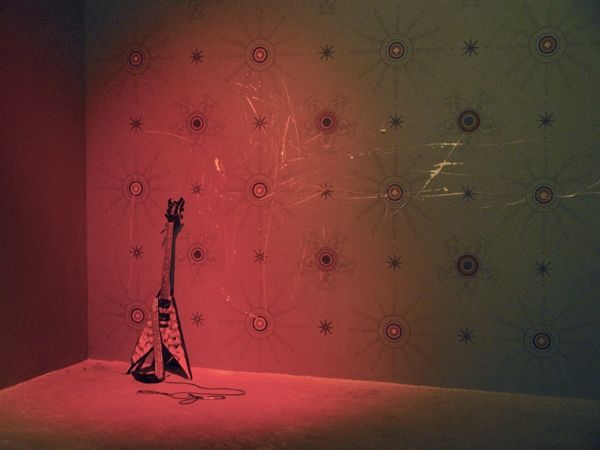 Scullpile / Sepulture 2004
Mural painting, electric guitar
dimensions variable